Aspara_kb-DIY mechanical keyboard
This is an introduction of my DIY Keyboard, "Aspara".
Important announcements and related information are posted on Twitter using #Aspara_kb, so be sure to check it out.
This kit requires parts assembling and soldering procedures.
Please be sure to read the following instructions carefully upon purchase.
What is Aspara?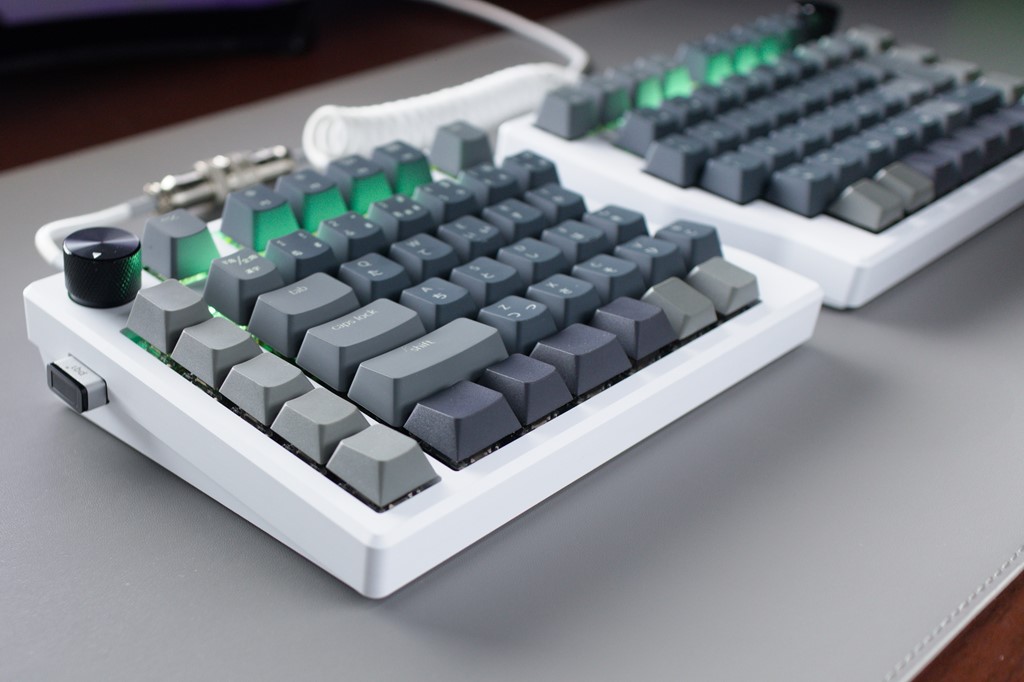 Aspara has the following features.
・Aluminum body with Brass plate
→ Heavyweight and stable. The brass plate at the back absorbs the noise and gives a luxury taste to the keyboard.
→The aluminum body is sandblasted and E-coated. Everyone will sure fall in love with its elegant white colored body.
・Gasket Mount
→ Perfect softness that will give you a luxurious typing experience.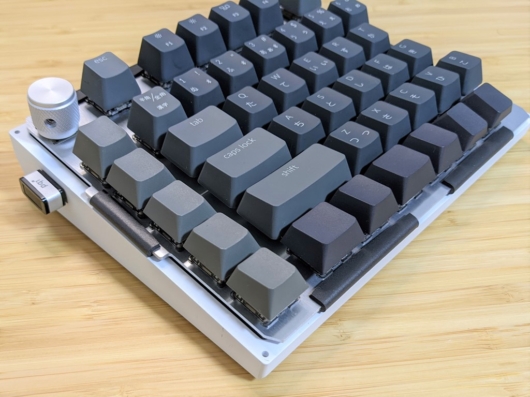 ・Split layout
→The keyboard is split in half, so you will be able to type with your chest open. This will help prevent back, shoulder and neck pain.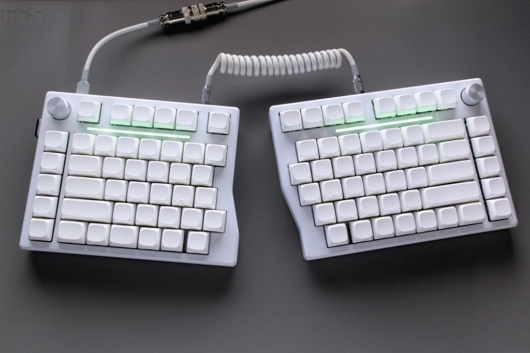 ・Supports ANSI/JIS Layout
→Common PCB, but the switch plate is specially designed to stabilize the keys.

・On-board USB Hub (USB2.0)
→USB-hub can be used when Aspara is connected to PC from the left hand side. A fingerprint scanning device may be connected for easier log in processes. Or you may simply use it to connect USB drives.
That's not all!
Aspara has more detailed features apart from the main features mentioned above.
・On-board encoders on both sides of the keyboard
→Usage may vary from volume control, vertical/horizontal scroll, indicators, and many more.
・Supports key remapping
→You may easily change the key map, including both the encoders, on your selected browser.
・On-board indicator bar
→Light up your workspace with these beautiful full LED indicators.
→By updating the software, you may also use them to indicate useful information.(ex. Layer status display, animation display)
・USB Type-C
→USB-C is used for connection to PC.
・TRS cable may be used for the communication between both sides of the keyboard.
→Most keyboards requires TRRS cable for comparison, but Aspara is designed to allow usage of 3-pinned TRS cables as well as TRRS cable.
・Keys are MX compatible. Supports both Hotswap and Soldering(fixed).
→Hotswap makes key exchange easier. Fixed Soldering is recommended for better typing experience.  
・Connection to PC can be done on sides.
→Choose which side to use depending on your desk layout.
※ However, USB-hub cannot be used when you use the right side for PC connection.
Asapara's Click Sound
Please refer to the videos below for the click sound with the following conditions.
Key switch: DUROCK L1
Keycaps: Keychron K2 + KBDfans Enjoypbt Black&Dark
Product Details
Description of all parts.
Base Kit
Photo
Parts
TBD

Keyplate (FR4) Both ANSI/JIS Total 3 pcs

TBD
PCB
TBD

Body (Alumiminum Parts 4pcs, Brass plate 2pcs)

TBD

Encoder 2pcs

TBD

Encoder Knob 2pcs

TBD

Rubber Feet 8pcs  

TBD

Indicator Light Guide Plate 2pcs

TBD

TRRS Jack 2pcs

TBD

LED (WS2812C-2020) 12pcs

TBD

Diode 95pcs

TBD

Chip Resistor 10kΩ 4pcs

TBD

Chip Condenser 0.1uF 4pcs

TBD

M2-8mm Pan Head Screw 8pcs

TBD

M4-6mm Flat Head Screw 4pcs  

TBD
USB-Hub P

arts


→

Mounted in PCB

TBD

Micom and Other Peripheral Parts

→Mounted in PCB
Parts that are not included in this kit
You will need the following parts in order to complete the base kit.
・Keycaps
→Please prepare a set of keycaps depending on the layout
・Cherry MX Compatible Key Switch x 92 (For JIS layout)
→ANSI Layout: 90
・2u Stabilizer 2pcs (For JIS layout)
→ANSI: 4pcs
※For ANSI layout, please use at least one screw type stabilizer for better stability.
・USB Type-C Cable
→For connection to PC
・3.5mm TRS(TRRS) Cable
→For connection between left and right keyboards. Use male-male cable.
※The connector's leg must be below 900mm for it to fit.
・Switch Socket
→If you want to do hot swap, please prepare enough key switches depending on the layout of your choice.
[Optional] Soldering
I will send pre-soldered parts to you, so you won't have to.
If bought with the Switch Socket option, the switch socket will be soldered as well.
[Optional] Aluminum Plate
Select this option if you need an aluminum plate in addition to the base kit's FR4 plate.
Has a sharper click sound compared to FR4.
[Optional] Switch Socket

This option includes 100pcs of kailh switch sockets for Hot Swap.
For Pre-orders
Pre-orders are accepted from the link below.
If you have any concerns/questions prior purchase, please reach me at @7_rate.
---